COMBINED PUNCH-LASER EQUIPMENT offered by STORE LOGISTIC
The compact and combined punch-laser systems promoted by STORE LOGISTIC prove all the advantages of the servo-electric drive concept and CO2 or fiber laser cutting.
Flexible, fast, productive, modern and accurate combined servo-electric and fiber laser technology made accessible.
Benefits
Combined concept – superior productivity, efficiency and versatility
Modern software, fast set-up times
Reduced floor space requirements even with the annexation of automation modules
100% servo-electric fiber laser cutting and punching, meaning reduced energy consumption
Superior tooling capacity
Flexible laser that can also be utilized for the processing of materials like brass or copper
Low maintenance costs
No laser gas requirements
Fast and easy laser cutting, punching, forming, marking, bending
Technical data
Maximum sheet size – 3074 mm x 1565 mm (121" x 61.2")
Maximum working area without repositioning – 2530 mm x 1565 mm (99.6" x 61.2")
Maximum combined (laser and punch) working area without repositioning – 1900 mm x 1565 mm (74.8" x 61.2")
Punching forces – 170, 200 or 230 kN (19, 23, 26 US tons)
Tool rotation speed – up to 133 rpm
Punching speed – up to 700 hpm with 1 mm between holes
Laser source – High brilliance fiber laser 2 kW or 3 kW
The flexibility of four processing technologies combined
Forming, marking, punching and laser cutting in one high-performance state-of-the-art sheet metal processing machine. The characteristic that best describes the integrated laser cutting and punching technology is versatility.
This style of manufacturing reduces cost per part and offers faster set-ups and more ease of operation. The laser unit can be utilized in different applications, for example where it is most flexible and the punching unit where it is faster or easier.
The best solution for your operating needs is always up for grabs. All of this extends to a greater flexibility when answering to our customer's production requirements, which is what our partners strive for.
Our combined processing system has a state-of-the-art 2 kW or 3 kW fiber laser source with reduced energy consumption and no laser gas requirements. Therefore, it is a definite example of the ECO MIND type production.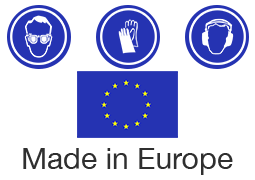 Features
Integrated punching, marking, forming and laser cutting
The turret is always programmable, with a maximum capacity of 384 tools
Scrap conveyors
Work chute (500 mm x 500 mm)
A multitude of options – 1-3 clamps, individual movement, lifting brush tables, 2 distinctive tapping solutions
Drop doors (up to 500 mm x 500 mm)
Upforming capabilities
All the capabilities and versatility of the servo-electric drive punching series
Automated laser scrap sorting
High level of accuracy (the work stages are performed by a single machine)
Reduced stress on the components of the process
Small floor space requirements
Reduced programming costs (only one NC program required)